On behalf of the staff and management here at Traveller's Motel we would like to welcome you to Stratford Ontario. Stratford is a small town built on heritage and tradition, so your visit here will be a tranquil visit away from the noise and chaos of the city.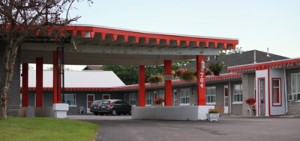 To help ensure you get the true experience we at Travellers Motel strive to bring the traditional feeling of "thy ol Shakespearean times." Some of our rooms are traditional with a cozy log cabin feel and for our contemporary traveller we have plenty of rooms which offer a modern touch. With 25 rooms to choose from we are sure to find one that is accommodating to your needs.
Our mission is to provide genuine care and comfort to all our guests.  Whether you need more pillows, an extra bed, or simply a friendly conversation, your host is always a phone call away and is available 24 hours. Good service as well as a warm hello and the enchanted good bye have been our tradition for 23 years.
The Traveller's Motel has a heritage as rich as the town. Built in the 1960's we like to think we played a pivotal role in helping the town and festival grow. Having been passed down the family for 23 years, The Traveller's Motel is rooted strongly in the heart of the community and continues to grow along with it. We are constantly working to provide the quality and comfort that has been our foundation for years. The Traveller's Motel truly is A Friendly Place To Stay.
"I would like to extend my appreciation to our loyal customers and welcome everyone to visit The Traveller's Motel. I assure you, you will leave satisfied knowing you received the best."

Amrik S. Kahlon, Owner